Stepping Stones to great careers in the arts.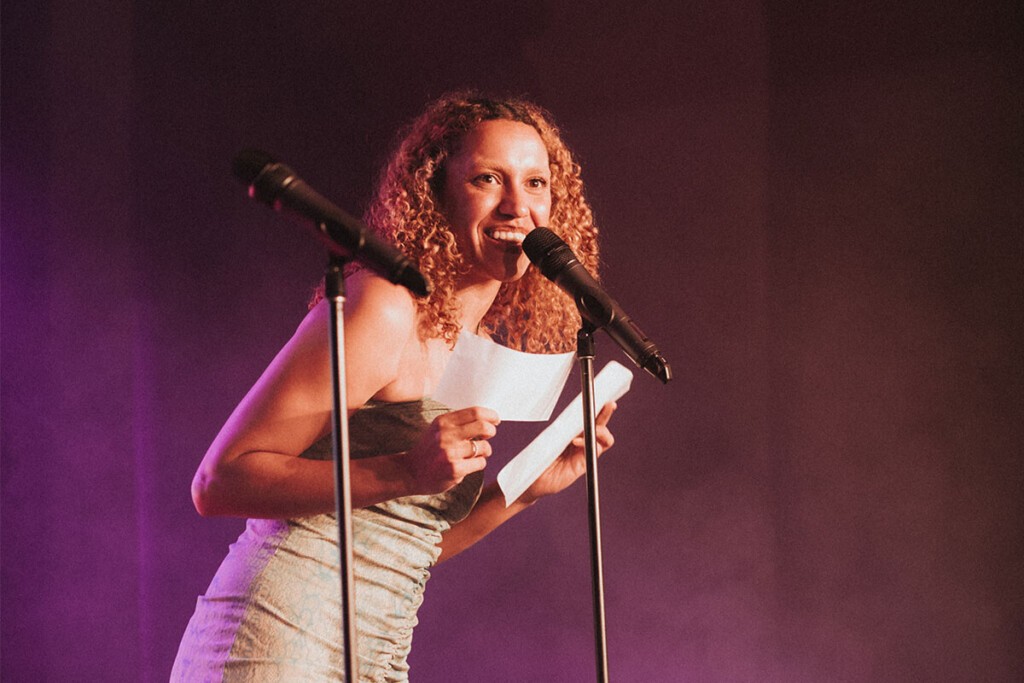 Melbourne Fringe has announced the recipients of this year's Stepping Stones professional development program.
Three Melbourne Fringe staff members – Peta Duncan, Carly Findlay and Jason Marsiglia – will be funded to embark on self-devised upskilling programs that will connect them with mentors and activities to help build their professional experience.
Each year Stepping Stones offers some of our brightest arts workers (aka Melbourne Fringe staff) pathways to develop in knowledge, confidence and career planning as they work toward becoming our future arts leaders.
Now in its third year, Stepping Stones addresses a leadership shortage in the independent arts. Despite being the home of innovation and driven by new forms and content, the independent and small-to-medium arts sector (that is, those working outside major institutions) is short on future arts leaders in key roles like producers, and marketing and development managers.
Through Stepping Stones Melbourne Fringe is working to fix this problem, creating formal industry pathways and professional development opportunities in a sector where there are few. Professional development budgets for arts workers continue to be lower in the small to medium arts sector than in other industries; often they are non-existent. Theatre Network Australia's 2018 This is How We Do It report, which documents the working trends of independent artists, creatives and arts workers in Australia, revealed only 9% of early career artists had a business or strategic mentor, while just 15% had a formal career plan.
In 2023, Stepping Stones participants will travel the country and the world, meeting other workers and artists, on journeys of learning, discovery and development.
Peta is our Deadly Fringe Program Coordinator. New to working in the arts, Peta will use the opportunity to diversify her networks and expand her knowledge by visiting other festivals, including the Cairns Indigenous Art Fair. "I want to gain a better understanding of different contexts, across different artforms" she says. She will work with a mentor to help guide this process too. "I'm keen to learn from someone else's experiences."
Carly is Melbourne Fringe's Access Advisor, as well as a writer, speaker and appearance activist, and has made major contributions to many of the access initiatives Melbourne Fringe has implemented in recent years. As part of her Stepping Stones activities, she's planning to access more disability art globally, visiting festivals in the UK to see how access is done internationally, meet artists and leaders in other contexts, and bring her learnings back to Fringe. "My passion is bringing people together – and hopefully through expanding my networks I can do that. I can bring new artists to Fringe and share some of the great work Fringe is doing." Carly will also work with a mentor who is a leader in the arts and will guide her on career planning and strategy.
As Melbourne Fringe's Program Manager (Independent Arts) Jason looks after all the artists in our Open Access Program. Having worked in a range of festival contexts over a number of years, Jason will use Stepping Stones to continue developing in this space, attending the Atelier for Young Festival Managers in New York. "I am excited to learn about innovative forms of leadership, different models of curating, and the social, environmental and artistic impact of festivals – how they can be agents for social change and social cohesion."
We are so excited to see where these activities take Peta, Carly and Jason in 2023 and beyond.
The Stepping Stones program has been running since 2020, with past participants going on to secure leadership positions in other arts organisations including Western Edge, APHIDS and Patternmakers. The program is generously supported by the Hugh Williamson and Betty Amsden Foundations.