Your Day, Your Way
Bring your own personal style and unique vision for your wedding to Fringe Common Rooms. Our beautiful heritage ballroom is housed inside the historic 164-year-old Victorian Trades Hall building on the fringes of Melbourne's CBD. With a stunning mix of original heritage features and modern upgrades, it's the perfect backdrop for the one-of-a-kind wedding of your dreams.
We champion individuality over conformity, offering a super flexible wedding experience that lets you do you without restrictive set packages. At Fringe Common Rooms your celebration can be as unique as you are.
Our expert events team are easy to work with, open to ideas, and know a thing or two about throwing a party.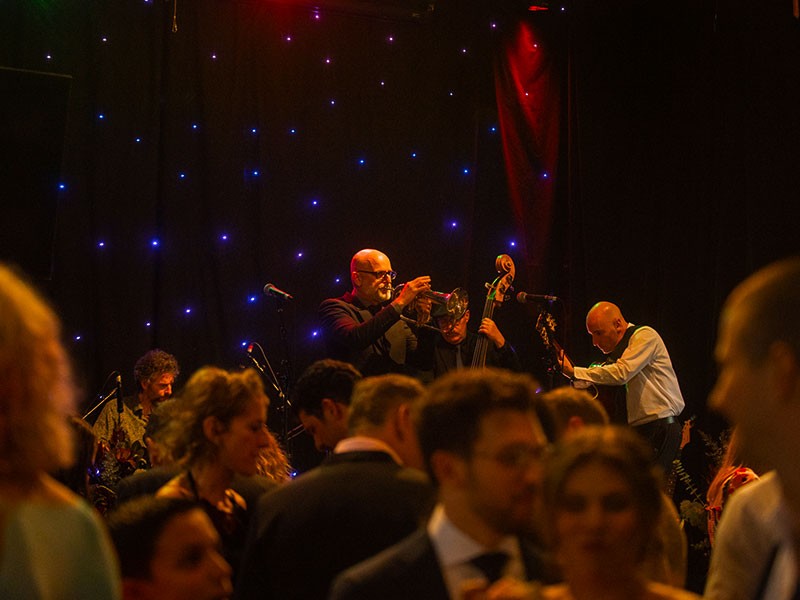 Bells & Whistles
Fringe Common Rooms is a DIY wedding dream, decked out with everything you need to host an unforgettable celebration. We have an excellent PA system, a tonne of sound and lighting equipment, a  giant sparkly mirror ball and can help you add some Fringey finesse with custom entertainment options or photographers.
We've hosted weddings with full bands, plug-and play Spotify playlists and everything in between.
We offer a full bar service with staff, and can run a tab with whatever inclusions you fancy. Our 3am license means you can celebrate into the wee hours and BYO catering means you get full control of your feast.
The Fine Print
We don't charge venue hire – all you need to commit to is a minimum spend behind the bar. Minimum bar spends will be confirmed at time of booking.
Bookings are confirmed upon payment of a $1000 deposit, which will be taken out of your minimum bar spend. Final confirmation of guest numbers and technical requirements must be received 10 business days prior to the event. Cancellation fees apply. Final payment must be made prior to the event or at the event via credit card.